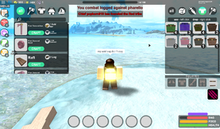 The God Bag was added in the Crystalline Update and it was a bag with infinity capacity that was nerfed to 3,000 (currently 1,500) and then made uncraftable shortly after being released due to exploiters. This bag was obtained illegitimately by hackers and at the time most people on Booga Booga had it.  
As of April 3, 2018, the bag was removed from everyone below level 1003 (the level required to craft it), because of exploiters. However, it was not completely removed from the game and could still be traded.
When the Mojo Update occurred, the God Bag has been removed from every player and added as an item in the Mojo Shop. Its recipe can now be bought for Mojo. It is the best obtainable bag.
Crafting
Trivia